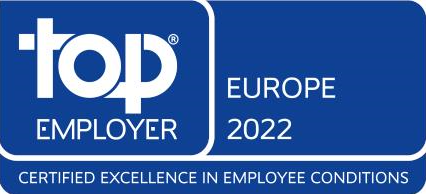 For the third year running, Angelini Pharma is recognized as a Top Employer in Europe.
Italy, Russia, Spain, Portugal, Poland and Turkey are the countries where it holds the certification, and now Germany and Romania for the first time.  
Issued by the Top Employers Institute, this certification is awarded to all the companies that excel in their HR Practices and that create incentives for the development and well-being of their employees, guaranteeing the best working conditions. Our areas of excellence include Strategy and Shape, as well as Attraction, Development & Engagement.
We talked with Eleonora Perticarà, Talent, Development & People Engagement Manager at Angelini Pharma about this important accomplishment.  
How does a company receive Top Employer certification? 
It is a long, complex process involving a meticulous analysis of HR processes, which are audited by Top Employers before they are validated.  
The processes in the following areas are analyzed: Steer, i.e., everything related to the Business, People and Leadership strategy; Shape, which includes the organization, digital HR and the environment in the workplace; Attract, Develop and Engage, which refers to the employee journey within the company, starting with recruitment and on-boarding, then performance, development and training, to remuneration, well-being and engagement; and, lastly, Unite, the area that relates to the company's culture and value system, as well as diversity & inclusion and sustainability.  
What happens next? 
After the analysis and validation, we receive feedback not only on whether we earned the certification but also on our strengths and the processes we can improve. Following certification, we have 12 months to work on efficiency and innovation.
The overall process is an excellent opportunity to improve HR processes and compare our performance with other Top Employer companies in the same industry.  
What were the results this year? And what turned out to be the main areas of excellence? 
We are extremely proud of the results this year: we scored above the benchmark in 5 out of 6 processes. Our areas of excellence are Strategy and Shape, as well as Attraction, Development & Engagement. This was only possible thanks to the work last year to improve all the processes in the Employee Experience, with the end aim of aligning the messages conveyed to external candidates and employees and making them consistent. For example, we launched an inclusive, mass process to survey and rate learning agility and we promoted people care initiatives to improve physical & mental well-being.
The Unite area is the one where our performance was weaker, although it is up on last year. We are investing considerably in this area, preparing projects for diversity & inclusion and sustainability and this will be the focus of our commitment in the future as well.
What is it that makes you proudest of this accomplishment, now in its third consecutive year? 
What makes us the proudest is the fact that this certification confirms the validity and strength of our HR strategy at Angelini Pharma to be an Employer of Choice. Once again, we proved that we are a company that puts people first as a key strategy for growth, and that this was recognized outside the company as well fills us with pride. 
Have you promoted any special initiatives to keep employees motivated and engaged in these difficult pandemic years? 
There are so many initiatives that we have promoted to motivate and engage our people. The most significant, based on several in-house surveys that we conducted, was when we actively involved all Angeliners in the creation of action plans to outline the company's future. It was also important to consolidate a culture based on merit, inclusion and the desire to excel, which has stimulated and brought the best out of our human capital.